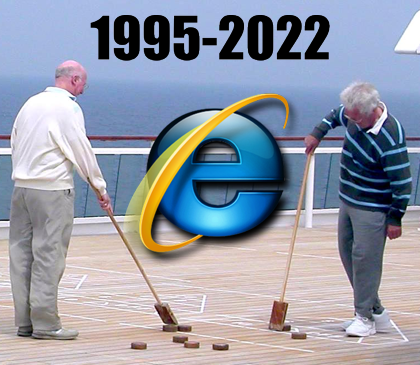 While some may be sad to see the Internet Explorer End of Life, fortunately, there are alternatives to Internet Explorer, so most users needn't worry about losing access to Microsoft's online services. There are many benefits to using a new browser instead. The latest version is called Microsoft Edge, and its Chromium-based architecture aims to rival Google Chrome and offer a friendlier user interface on touch-supporting PCs. Luckily, there's a way to accommodate those users who still need to use Internet Explorer.
Microsoft Edge
The usage share of Internet Explorer is quite small, with less than 5.5 percent of the market. Microsoft doesn't publish official numbers, but third-party stats put it at 5.21 percent. In addition to this, Edge is already the default browser for Windows 11, and most home users have already switched to it.
Microsoft is phasing out Internet Explorer, with its last major version ending on June 15, 2022. Users of the browser should migrate to the latest version of Microsoft Edge, which has been optimized for security and speed. In addition to speed and security, Microsoft Edge also works with legacy applications.
While Internet Explorer End of Life is here now, Microsoft will still support its browser in Edge until 2029. Users of the IE11 desktop application will continue to be redirected to Microsoft Edge. To make the transition to the new browser easier, Microsoft is keeping a legacy browser mode available for Edge.
Built-in Internet Explorer Mode
Considering moving to Microsoft Edge after internet explorer end of life? If so, you'll be moving to a new, improved browser that supports legacy web browsers. Microsoft Edge is much faster than IE and more secure but still supports legacy browsers. It even has an IE mode that allows you to use older IE websites.
When it is retired by its creators, Internet Explorer will be redirected to Microsoft's Edge browser, and it will no longer be available on newer versions of Windows. Microsoft Edge comes with IE mode, which you can manually enable or disable, so you can continue to access legacy Internet Explorer sites and apps. You can set it up in the Getting Started guide, and consumers can enable it themselves.
What Does Microsoft Say about Internet Explorer End of Life?
"The good news: you probably already have it on your device. Search for "Microsoft Edge" using the Windows 10 search box or look for the icon (see the top of this article). If you don't have it, you can easily download it here. We've also aimed to simplify the upgrade to Microsoft Edge; once you've opted to move to Microsoft Edge, it's easy to bring over your passwords, favorites, and other browsing data from Internet Explorer in a few clicks. And if you run into a site that needs Internet Explorer to open, Microsoft Edge has Internet Explorer mode built-in so you can still access it,"
Bottom Line
While IE11 is being phased out, developers and users should prepare now for the transition to Microsoft Edge. Although the transition from IE11 to Edge may seem daunting, it will be done gradually and according to industry best practices. And because Microsoft has said it will end support for Internet Explorer in 2022, it's worth preparing for it. After all, it is faster, safer, and compatible with legacy apps and sites.