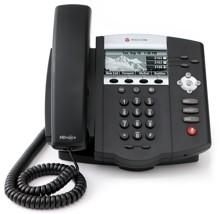 Now through 2013, MCS is offering a small business phone system for 5 users for just $3,399* installed. The system includes an on premise Voice over IP PBX, PoE Switch, backup battery, and 5 Polycom 450 HD Voice phones. You can scale up the system for more phones and lines as needed. Our digital phone system boasts the following features:
Per user voicemail with built in email and cell phone integration
Auto-attendant
Dial by name directory
"Follow Me" locator feature to let your customers reach you wherever you are
Polycom HD Voice for crystal clear calls
Local onsite support and installation service

We have put together this phone bundle to simplify pricing and save you money. Customers that need more phones, or non-VoIP phone service can use this as a starting off point to add extra hardware as needed. Each system will be professionally installed and your employees will be trained on how to get the most out of the system. Contact a rep today for more details.
*Price excludes sales tax. VoIP phone service is assumed and extra charges may apply for POTS or PRI modules. Cabling not included. Offer expires 12/31/2013