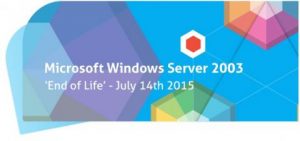 What does "End of Life" mean for an OS? Well, as is pertains to Windows Server 2003 it mainly means that Microsoft will no longer push out security updates. Right now, if a new exploit in Windows Server 2003 becomes known, the engineers at Microsoft will create a patch and release it through Windows Update. After July 14th 2015, there will be no more security updates released to all Windows 2003 servers.
In reality though Server 2003 has been an old OS with limited support for several years. The only updates released now are critical security patches and most 3rd party software available now recommends at least Server 2008 R2 or newer.
It is critically important that all of our customers migrate to a supported Server OS very soon. Our engineers have been very busy with migrations the last several months but there is still time to act to ensure your organization is secure, reliable, and complaint.
If you would like to request service to migrate your IT environment, let us know.