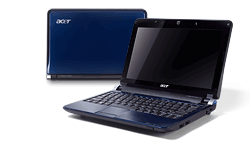 Acer has a great evaluation program and they are offering an Aspire One AOD150-1165 Netbook to try our free for 30 days.  These small netbooks are great for schools because they have exceptional battery life and are very affordable.  Thanks to the new Intel Atom processor, the performance to power consumption ratio looks better than ever before.
After the 30-day demo is over, the school can buy the netbook for just $199 or send it back on Acer's dime. If a school decides to buy more, they are available for just $349 through MCS.
This program is a great way for schools to test drive a product before they buy. These netbooks seem to have exploded on the market in the past year or so. Like everything in technology, they have their pros and cons and they are not right for everyone. You loose a little in performance and features (like, no optical drive and a smaller keyboard) but they are wonderful for web browsing and other network enabled tasks.
If you are with a K12 school, click here for more details and to signup for the program.